Richard Kerr is not a household name. And yet most homes will have his music in them.

The list of people who have recorded his music in the past 50 years reads like a 'Who's Who' of popular music culture; Roy Orbison, Bonnie Raitt, Gladys Knight, Barry Manilow, Kim Carnes, Frankie Valli, Michael Ball, Johnny Mathis, Tom Jones, Andy Williams, Dionne Warwick, Herb Alpert, Natalie Cole, The Righteous Brothers, John Denver and Kenny Rogers to name just a few.
More recently, he enjoyed a No. 1 record in the UK when, under the direction of Simon Cowell, Westlife recorded 'Mandy' written with long-time collaborator Scott English. This coupled with other major hit songs like 'Somewhere In The Night', 'Looks Like We Made It', 'I'll Never Love This Way Again', Shine On' and 'No Night So Long' have garnered 2 further Grammy nominations, 14 BMI special awards and more than 13 million airplays, plus 40 million records sold in the USA alone. As a solo artist he has recorded four albums and written title songs for film and television, in the main with academy award-winning lyricist Will Jennings.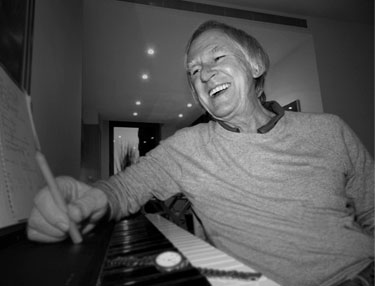 In the past year he has once again given his life over to the recording process after being introduced to Kipper (most noted for his work with Sting on 'Brand New Day' and 'Sacred Love') and the result is a stunning collection of new songs along with a couple of old favourites performed exclusively by Richard and titled 'Late but in Earnest' which is the Kerr clan motto.
A new creative collaboration with Pete Bellotte (famed for his work with Donna Summer) has yielded two stunning new songs, 'Riding The Moon', where Richard sounds like a man half his years, then there's the beautiful Smile', the breathtaking ballad 'Faces' and a splendid reworking of the multi million selling 'Mandy' ...and a stunning song written with his old friend Tim Rice called 'One Of My Best Friends'. I could go on...
This is a record for grown ups. People who love music and wonderfully crafted songs. Your best bet is to listen… listen and fall in love with the music. Embark on a journey. It may be late but in earnest, to my mind it's perfect timing.
Nick Battle, Summer 2015